In our family, we love dessert. To be honest, we probably love dessert a little too much, but we won't dwell on that right now. As we get closer to the holidays, my husband's family divides up responsibilities for the meal we will share together. There are 17 of us, so that's a lot of mouths to feed and too much for one person to prepare.
One of my favorite dishes that is always prepared by my sister-in law is this Toffee Pecan bundt cake with caramel drizzle.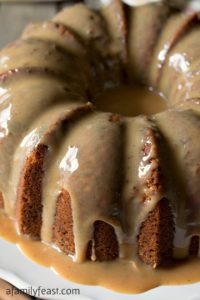 It is seriously to die for! I could probably eat the entire thing, but I love my family so I share with them.
She shared the recipe with me that she originally found on a blog called A Family Feast. That blog has since become one of my favorites for pulling recipes to try.
I will admit, I haven't tried to make the toffee pecan bundt cake on my own because let's face it, I'm not even close to as good a baker as my sister-in-law. Instead, I wait patiently for Thanksgiving each year and hope she chooses that as the dessert to bring!
Here's the recipe if you want to give it a try. You can also check out the blog for the recipe and some more pictures of this delicious masterpiece!
INGREDIENTS
For the Cake
Non-stick cooking spray with flour
3 cups all-purpose flour
1 teaspoon baking powder
½ teaspoon salt
1 ½ cups unsalted butter, softened
2 cups light brown sugar, packed
1 cup granulated sugar
5 large eggs
1 cup whole milk
1 bag (8-ounces) toffee pieces
1 cup pecans, chopped
For the Caramel Drizzle
14 ounces (1 can) sweetened condensed milk
1 cup light brown sugar, packed
2 tablespoons unsalted butter
½ teaspoon vanilla extract
INSTRUCTIONS
Preheat the oven to 325 degrees. Spray a 12-cup bundt pan with non-stick cooking spray with flour and set aside.
In a medium bowl, stir together flour, baking powder and salt. Set aside.
In the bowl of a stand mixer, beat the butter until light and creamy. Add both sugars and beat again until fluffy. Add eggs one at a time, mixing until blended. Alternate adding in flour mixture and milk, mixing until just combined, being careful not to over mix.
Stir in toffee chips and pecans by hand, blending well. Spoon the batter into the prepared pan.
Bake for 75-80 minutes or until a toothpick inserted into the center comes out clean.
Allow the cake to cool in the pan for 10 minutes, then invert onto a wire rack to cool completely.
Once the cake is cool, prepare the Caramel Drizzle as follows:
Combine the sweetened condensed milk and brown sugar in a medium, heavy–bottomed saucepan. Over medium heat, bring to a boil, whisking very frequently.
Reduce the heat under the pan and simmer gently for about 8 minutes, whisking constantly.
Remove the pan from the heat and stir in butter and vanilla. Allow the mixture to sit in the pan for about 5 minutes – then drizzle over the cake. (You will want the drizzle to still be fairly hot when you drizzle it over the cake – it does harden a little after it cools.)